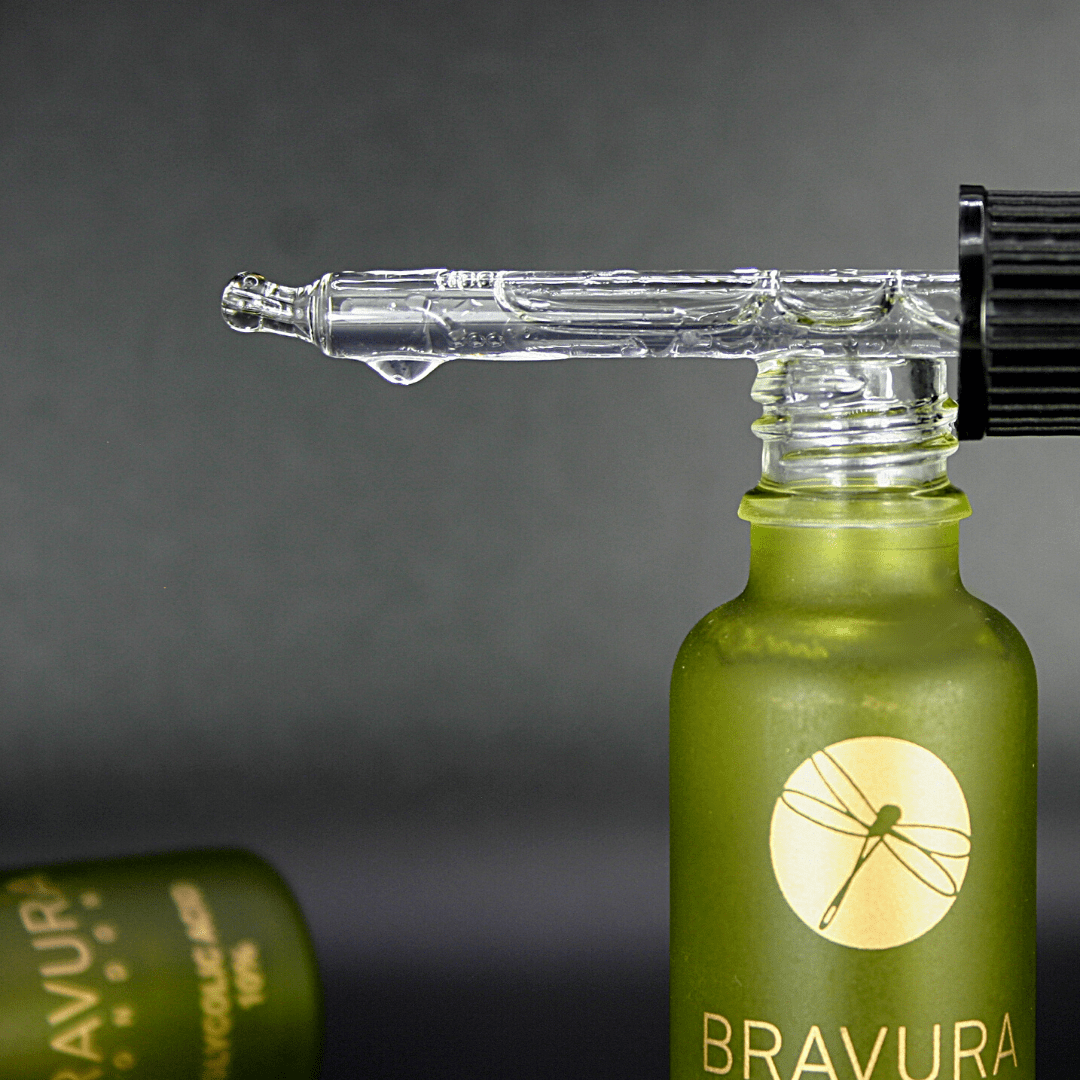 Glycolic Acid 10% Peel with Vitamin B5 30ml
Worldwide Shipping
Easy Returns
Secure Payments
Description
Looking for a powerful anti-ageing chemical peel that can help improve the appearance of wrinkles, discolouration and breakouts? Look no further than Bravura London! This high-purity glycolic acid exfoliator is infused with Vitamin B5, Vitamin E, Aloe Vera and Lavender oil to provide your skin with everything it needs to look and feel its best.

The active ingredients in our chemical peel work together to soothe and nourish the skin, while also providing potent anti-ageing benefits. Glycolic acid helps to slough away dead skin cells, revealing brighter, more youthful skin underneath. Vitamin E nourishes the skin, while Aloe Vera, Vitamin B5 and Lavender oil work to calm and soothe.
Glycolic Acid is said to be one of the most powerful and effective alpha hydroxy acids and is a luxurious alternative to harsh scrubs or peel off face masks. It has the ability to increase cell turnover which leaves the skin brighter and with a healthy glow. Regular use of glycolic acid can diminish the look of fine lines, wrinkles, and discolouration—revealing a brighter and more youthful-looking complexion.

Glycolic Acid Peel is a scientifically proven ingredient in skincare and suitable for most skin types. It's water soluble and can help to improve the appearance of the following skin complaints
Breakouts & Blackheads

Sun damaged skin 

Enlarged Pores

Fine lines & wrinkles

Discolouration 

Dry skin 

Keratosis Pilaris 

Age Spots

Dull, lackluster skin
If you have sensitive skin, please take a look at our lactic acid which is a gentler alternative to glycolic acid.
New Formula - This is our new formula launched June 2022, please perform a patch test before using this product. Due to the presence of polysorbate 20 which is what allows the beautiful lavender oil to mix with the water in the formula, the formula will appear cloudy and may settle at the bottom of the bottle, always shake before use.
What is Glycolic Acid Peel ?
Also known as the 'Lunchtime Peel', chemical peels are perfect for those with busy schedules who still want to maintain their skin's health and vitality.

Glycolic Acid is an Alpha hydroxy acid or AHA that works to increase cell turnover - something that slows down as we age. The dead skin on our face and body is held on by a glue-like substance, but glycolic acid helps to dissolve this glue which then causes the dead skin to simply fall off. This process reveals the new, younger skin underneath and gives you an instantly radiant complexion.
How Does It Work?
How is this good for spots, blackheads and enlarged pores? The most common reason we get breakouts is when hair follicles get clogged by dead skin cells and sebum - the oil your skin naturally produces. Bacteria multiply within the clogged pores and so spots and blackheads form. By removing the dead skin cells you are also removing the grime and excess oil that's blocking up the pores and exposing fresh, healthy skin.

Most people report that with regular use of AHA products, their once very oily skin becomes more balanced, the less oil your skin produces, the less oil there is to get trapped.

Glycolic acid will also help to reduce the appearance of blemishes and discolouration left over from breakouts.


If you suffer with deep blackheads, use the glycolic acid in conjunction with our Salicylic Acid 2%.


If you have acne- Acne is a medical condition, while a good skincare routine is important and can help improve the condition of your skin, acne often requires medical treatment, a good skincare routine is important for acne prone skin and will support your treatment but will not treat acne.
FAQ
How does it help with ageing skin?

The top dead layers of our skin are dull, dry and grey and don't reflect the light, this makes us look older than we really are. By removing these dried out skin cells with glycolic acid, you will have a natural and beautiful glow, the appearance of fine lines, breakouts, blemishes and discolouration will reduce and your skin will just look so much healthier and more youthful.

Glycolic acid may also stimulate your skin to create more collagen, giving you a youthful and radiant appearance. Collagen is the main structural protein of the skin and it plays a vital role in keeping your skin elastic and wrinkle-free. As we age, our collagen production decreases, which can lead to saggy, wrinkled skin. The Bravura London Glycolic Acid Peel can help reduce the appearance of premature ageing by encouraging your skin to produce more collagen. This stunning results will leave you with fresher, younger looking skin.

Using glycolic acid regularly means you are constantly renewing and regenerating the skin. As we age our skin can also get thinner, this can leave the skin looking uneven in tone, lacklustre and a little sallow, glycolic acid may help to thicken the skin which can help our skin appear more youthful.

No topical treatments can reverse deep scarring but the Glycolic Acid peels will help to make your skin smoother, and the indentations a little softer.

I'm pregnant or breastfeeding, can I use Glycolic Acid?

This is all down to personal choice. As we don't test on animals our products haven't been tested for safety during pregnancy but here are no safety concerns regarding the use of glycolic acid during pregnancy or breastfeeding.

Will my face be sore and peeling?

As long as you follow the instructions supplied then no, you should experience no discomfort or peeling.

A chemical peel works to help exfoliate the skin without the need for any scrubs or manual exfoliators. Home use chemical peels help to speed up the natural exfoliation process, removing the top, dead layer of skin.

Despite this, you won't see your skin peeling off. What is noticeable though, are the amazing results when you stimulate cell turn over (another world for exfoliation) you'll instantly see smoother and brighter skin.

What is the PH of this product?

3 which is an effective glycolic peel but buffered with soothing ingredients to to be gentler on the skin. Acids can sound a little scary but these products have been formulated to be safe to use at home, lemon juice has a lower PH than any of our products.
Ingredients
Aqua, Glycolic Acid, Propanediol, Polysorbate 20, Aloe Barbadensis Leaf Juice Powder, Phytic Acid, Cellulose Gum, Algin, Panthenol, Tocopheryl Acetate, Lavandula Angustifolia Flower Oil, Sodium Benzoate, Potassium Sorbate, Sodium Hydroxide, Linalool.

PH 3-3.5

Glycolic Acid 10% Peel with Vitamin B5 30ml
£0.00