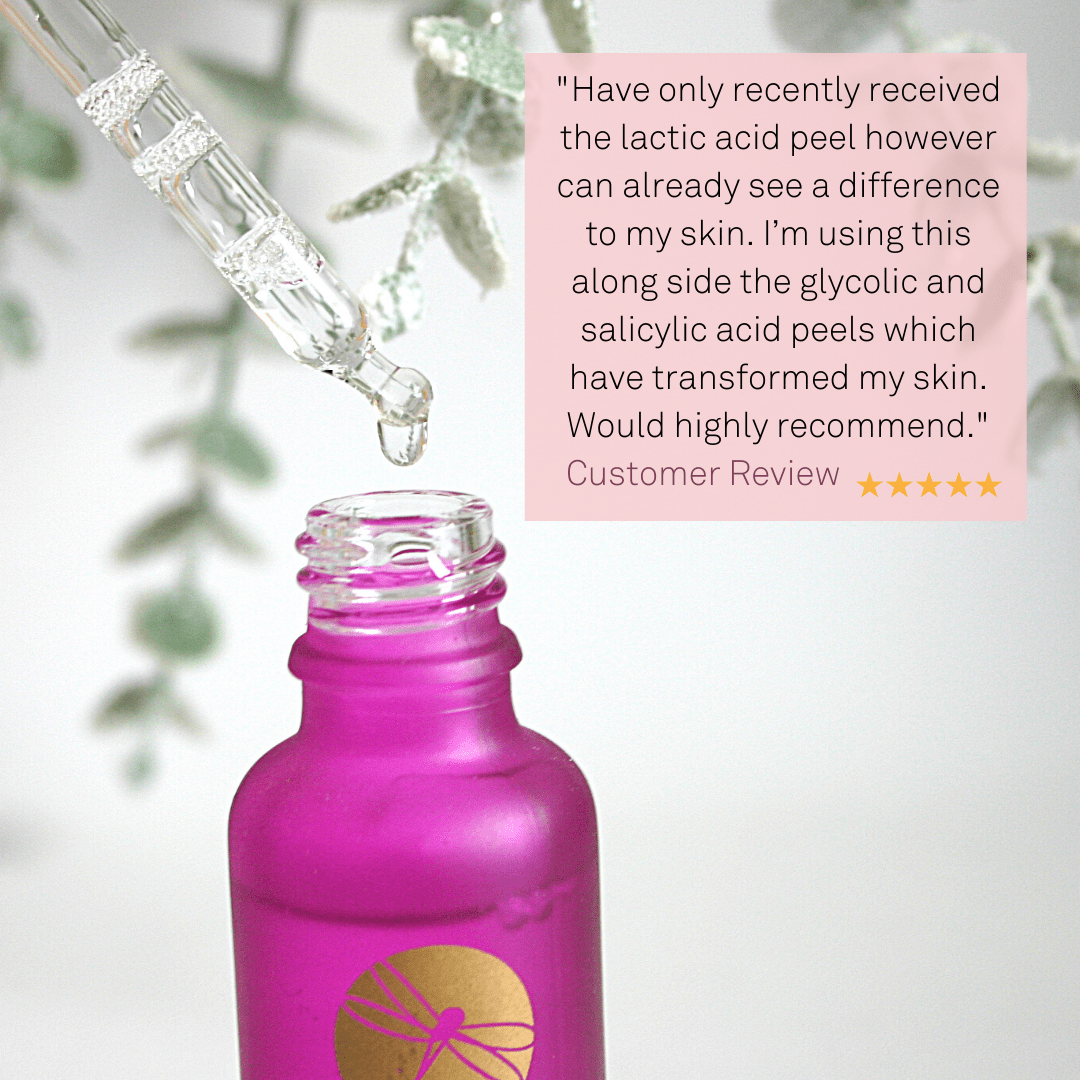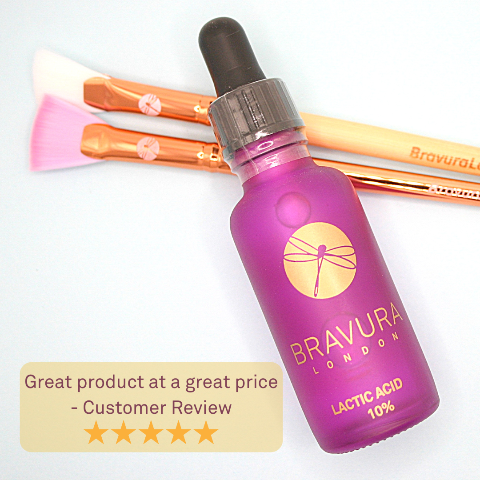 Lactic Acid 10% Peel with Vitamin B5 30ml
Worldwide Shipping
Easy Returns
Secure Payments
Description

Dull, tired skin? Bring it back to life with Bravura London's lactic acid! A lactic acid chemical peel enriched with Vitamin B5, Aloe Vera, Vitamin E and Rose Geranium oil, this product is perfect for dry, ageing skin. The lactic acid removes dead skin cells and unclogs pores, while the Vitamin B5, Vitamin E and Aloe Vera work to hydrate and soothe the skin. You'll see a difference after just one treatment - your skin will appear softer, smoother, and more radiant, with regular use you'll see an improvement in the appearance of fine lines, wrinkles, sun damage, or other signs of ageing.
It's also an excellent choice for those with dry skin who are looking for a deeper exfoliation than they can get from traditional cleansers and scrubs.
This peel is safe for all skin types and can be used on the face, neck, décolletage, and hands.
Lactic Acid 10% is suitable for everyone, but it's especially great for ageing skin, whether you're mid 30's and showing the first signs or in your 60's, choosing the right skincare as we age can be a challenge, we're battling against ageing, lacklustre skin but you may also still be getting breakouts, blemishes and blackheads. Lactic Acid helps with all these things and is a fantastic at home treatment that can give some really great results.
NEW FORMULA - This is our new formula launched May 2022, please perform a patch test before using this product. Due to the presence of polysorbate 20 which is what allows the beautiful rose geranium oil to mix with the water in the formula, the formula will appear cloudy and may settle at the bottom of the bottle, always shake before use.
This peel is suitable for all skin types, so even if you have sensitive skin, you can still enjoy the benefits of this excellent product. 
What is it used for? Lactic Acid has been known to help the appearance of
Breakouts

Enlarged pores

Dry skin

Sun damaged skin

Blotchy pigmentation, Hyperpigmentation (this product won't help chloasma, melasma or vitiligo)

Fine lines and wrinkles

Dull, sallow complexion 
Exfoliates without drying the skin
And the rose geranium we mentioned? Not only does this smell absolutely amazing (think floral like turkish delight) but this gorgeous oil not only improves the appearance of the skin but it's uplifting fragrance can bring a sense of relaxation and calm, bringing a little more joy to your skincare routine.

Give your skin the nourishment it deserves 🥰


How Does It Work?
Lactic acid is a very effective exfoliant that works at the base of the skin's epidermis (the top layer of skin), dissolving the 'glue' that holds dead skin cells together, allowing the fresh, healthy skin to be revealed. Because this increases cell turnover, skin becomes smoother, more elastic and more even in tone and texture.

Lactic Acid is also a humectant, this means it can help to attract water within the skin, when our skin is dehydrated it can look lacklustre and sallow, by increasing the hydration in the top layers of your skin, your skin will instantly appear a little plumper.

At the same time Lactic Acid may also stimulate your skin to produce more collagen. Collagen is the main structural protein of the skin and keeps it elastic and line free, as we age, our bodies produces less of the main structural protein that keeps your face elastic - so wrinkles start forming!

AHA's encourage better product absorption. When we find a fantastic serum and moisturiser to use on our skin, we want to ensure we get the best from the product. Unfortunately, when added to the dead skin cells and excess oil already coating the surface of our skin, these products are not going to work at their full potential. Lactic acid exfoliates, removing this dead skin, meaning your products no longer have this barrier that they need to penetrate through, this greatly improves the efficacy (effectiveness) of the products.
FAQ
What's the difference between Glycolic Acid and Lactic Acid? Lactic acid is a milder exfoliator, it's also a humectant which means it helps the skin to retain moisture. It can be used alongside our glycolic acid and salicylic acid and gives the skin a plumped up appearance and a beautiful, healthy glow. Lactic Acid is the best choice if you suffer with dry or dehydrated skin.

Will my face be sore and peeling?

A chemical peel works to help exfoliate the skin without the need for any scrubs or manual exfoliators. Home use chemical peels help to speed up the natural exfoliation process, removing the top, dead layer of skin.

Despite this, you won't see your skin peeling off. What is noticeable though, are the amazing results when you stimulate cell turn over (another world for exfoliation) you'll instantly see smoother and brighter skin.
Ingredients
Aqua, Lactic Acid, Propanediol, Polysorbate 20, Panthenol, Aloe Barbadensis Leaf Juice Powder, Phytic Acid, Cellulose Gum, Algin, Tocopheryl Acetate, Pelargonium Roseum Leaf Oil, Potassium Sorbate, Sodium Benzoate, Sodium Hydroxide, Citronellol

PH 3-3.5


This product is free from animal derived ingredients and is suitable for vegans.
Lactic Acid 10% Peel with Vitamin B5 30ml
£0.00