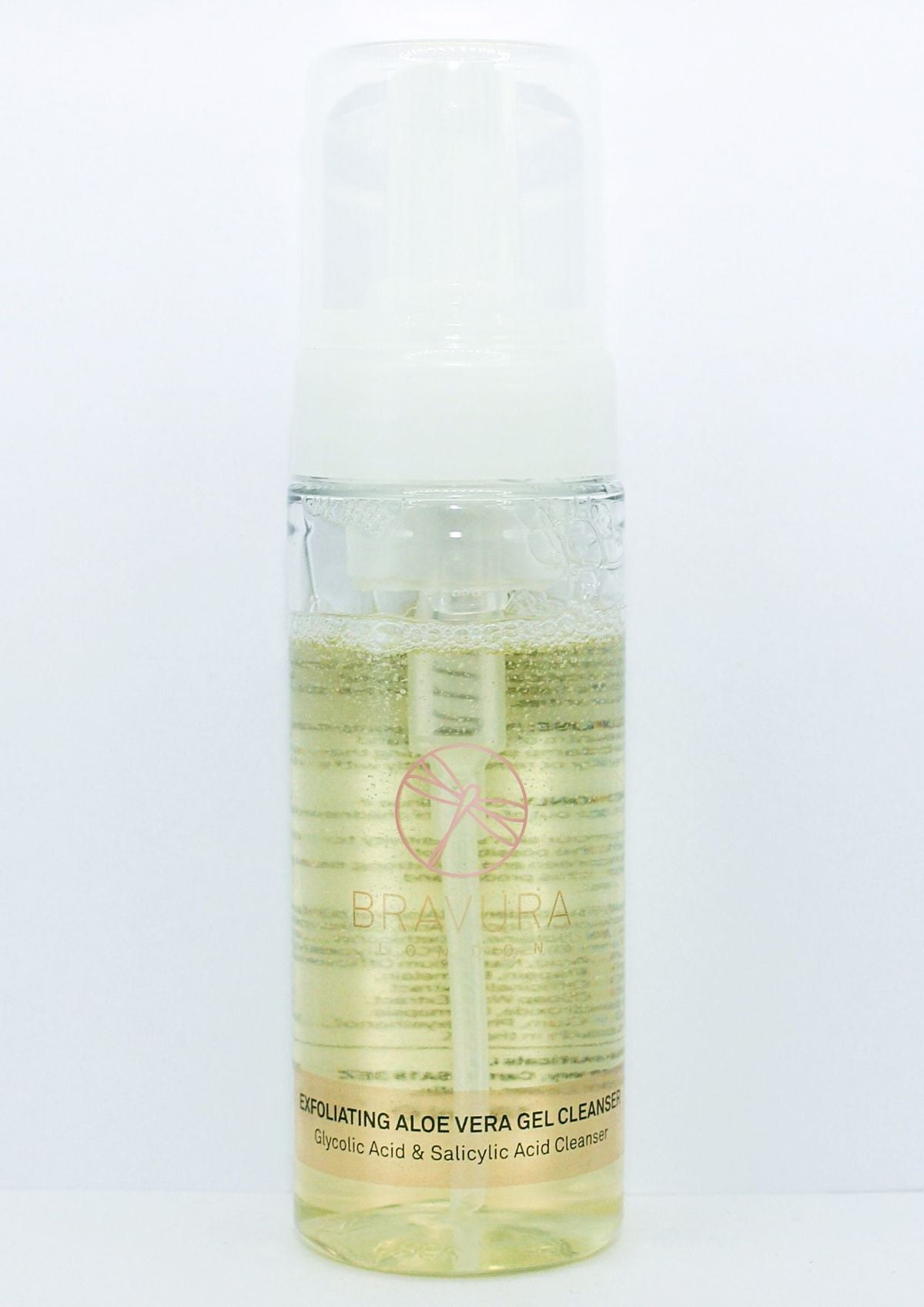 Purifying Gel Cleanser 160ml Glycolic & Salicylic Acid
Worldwide Shipping
Easy Returns
Secure Payments
Description
Purifying Gel Cleanser is a salicylic acid cleanser which is a deep cleansing, non foaming, oil-free face wash, it thoroughly removes excess oil and surface impurities without drying out the skin. The glycolic acid, salicylic acid and natural enzymes help to exfoliate the skin, helping to remove dead skin cells.
Our Aloe Vera based cleansing gel is perfect for oily, problem skin thanks to the wonderful blend of deep cleansing ingredients. Glycolic helps the skin to naturally shed the dead skin cells which cause our pores to get clogged leaving the skin looking dull and unhealthy while the salicylic acid (BHA) works deep in the pores helping to reduce the size of enlarged pores and to clear blackheads. With regular use, skin becomes clearer, smoother and brighter.
This product is free of sulphates, the foam is created by the bottle and not a soap base. 
How Does It Work?
Salicylic acid helps to unclog the pores and deeply exfoliate the skin, while natural Vitamin B Complex derived from Yeast Extract helps to regulate oil gland secretion to reduce the clogged pores, surface redness and breakouts associated with oily skin.

Natural botanicals include watercress extract which is high in vitamin C (ascorbic acid) known for clearing the complexion and has cleansing and soothing properties, lavender extract, renowned for its amazing soothing benefits and papain which helps to break down the skin on top of the blemish and release the trapped material under the skin. Papain is also used to reduce blackheads by removing any blockage and helping to break down the dead cells inside the pore.

Salicylic acid is a very effective ingredient for oily skin types that are prone to open pores and blackheads. Because it has a larger molecular structure it stays on the surface of the skin longer giving it fantastic pore clearing capabilities
How To Use
This product is excellent as part of a 2 step cleansing program for Problem skin. Although this does remove light make-up, if you do wear make-up we recommend removing first with our First Cleanse Oil and using the Purifying Gel Cleanser as your second cleanser and morning cleanse. Learn how to cleanse your skin properly HERE (really worth a read).

Pump roughly 3 pumps of cleanser into the palm of your hand and massage in to dry or damp skin, avoiding the eye area. Rinse thoroughly or remove gently with a face flannel.

As this cleanser contains acids, it cannot be used to cleanse your skin before using our chemical peels.
FAQ
Why doesn't the bottle look full to the top? This product comes in a PET plastic bottle with foamer pump top. The bottle also looks half full, it does contain 160ml of product but space in the bottle is needed for the foamer and for the products to have enough space to expand during airmail, many skincare bottles leave a large gap but as they contain opaque labels, the gap isn't noticed. Due to the use of natural ingredients, the appearance and clarity may also alter with each batch.
Ingredients
Aloe Barbadensis (Aloe Vera) Leaf Juice , Decyl Polyglucose, Glycolic Acid, Salicylic Acid, Cocomidopropyl Betaine, Dimethicone, Yeast Extract (Vitamin B), Sodium PCA, Glycerin, SD Alcohol 40, Lactic Acid, Nasturtium Officinale (Watercress) Extract, Papain, Bromelain, Lavandula Angustifolia Extract (Lavender Extract), Saponaria Officinalis (Soap Wort) Extract, Camphor, Sodium Hydroxide, Guar Gum, Phenoxyethanol, Sodium Benzoate.

If you are allergic to latex avoid this product as it contains Papain derived from the papaya fruit, the same source as latex.

Purifying Gel Cleanser 160ml Glycolic & Salicylic Acid
£0.00